Yeah. I was so excited last night because of my awesome performance at Dekalb, but today...just reread the title. I got up at seven in the morning so I could go to church with Austin. I felt like complete and total crap but I really wanted to just spend some time with him, only him, that was longer than the freakin' ten minutes before school starts. So I went to church.
"Whatever that means. You know, God probably sits up there in Heaven and yells 'hey, angels, its the funny guy again!' whenever I start praying." --Lex
We watched some of the Passion of the Christ. I'd never seen it before, even though my mom got it for us. (She only got it to "keep up appearances", as Austin put it) ...Wow. Now I understand what Emi was telling me when she said people were walking out of the theater dead silent. You'd have to have been there in the room with us, watching what Jesus was going through to really get it. Yeah, it was some actors in a chosen location with authentic-looking props, but still.
After class, I still felt kinda sick. Well, it mostly my head and the fact that I was freezing. I wasn't really hungry and the sight of all that food at the lunch and the smell just made it worse. (Not that I'm saying the food was bad, mind you. I had some darn excellent rice. But it was just because of how I was feeling.)
I was looking forward to being able to go somewhere with Austin later on today, but looks like that's a no go. :( We were both looking forward to it too.
Ok, enough of my whining.
If you check out my userpics, they're all icons I made! I only put the ones I'm REALLY proud of. Not all the craptastic ones I made awhile ago. I need to make more Rammstein ones, I've only made the one which is my default pic.
I don't know if mom will ever think of letting me get GlaubeLiebeTod. And I know for a fact she went through my Rammstein cds. I had taken them all to the band competition yesterday (yes, cases and all) and then this morning left them stacked on the floor against my bookcase. I figured 'hey, I'll only be gone for church, and why would she come into my room anyway?' Well, she went in my room to get the bedsheets and ended up doing a little bit of cleaning (I'll admit, my room was messy, but hey, I was going to clean it myself, dear maternal unit of mine). She was good at trying to hide it, but she didn't count on my OCD powers! For you see, when I stack things like cds, I make sure they are all perfectly even on the sides. When mom put them back after going through them, they weren't in a perfectly even stack.
The fact that last thing she knew I had one Rammstein cd (Sehnsucht..you all remember the cover incident?) and now I have six (I have one of the singles if you're wondering how I have six when
they've only put out five) is probably causing a little blood vessel in her brain to pop. It's probably because of Austin that she forgot about them. He stayed for awhile after he dropped me off, so it totally would have left her mind.
I just need to wrap this up. It's pretty long. But let me revive the tradition of me ended with some pic.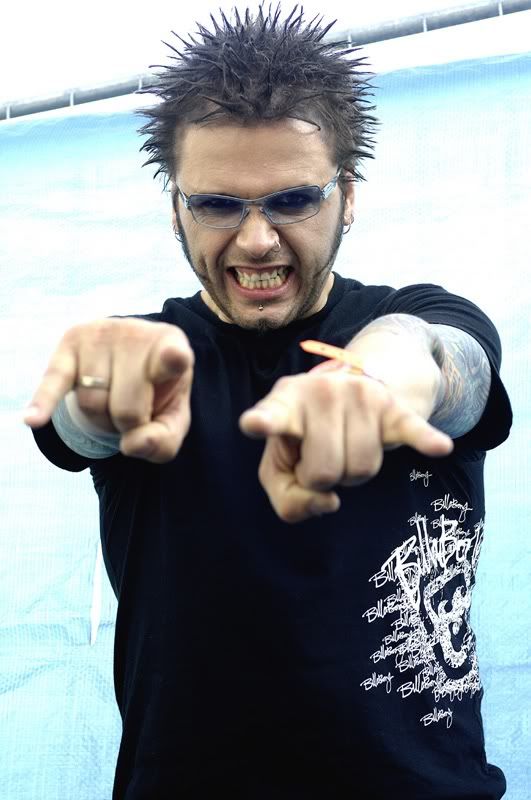 <--My OOMPH! boy, Dero Goi. I've totally talked to him through email (super nice, not all arrogant). Yeah, you're all jealous, I know. ;)